In honor of #ThrowbackThursday, I'm sharing a 2013 project: painted gourds.
But first, I want to share this awesome opportunity!
CALLING ALL ARTISTS
The Oxford Museum of Natural History is issuing a call for artists for the upcoming Settlers exhibit! To quote: The Museum would like to commission up to two pieces of contemporary art that explore themes such as genetics, DNA, migration, settlement and ancestry. Make sure to check out their page for more information. Deadline is September 1st, 2017!
I will definitely be submitting a piece, and you should, too!
That being said, let's check out what happens when growing inedible gourds is all your green thumb is good for.
Once upon a time, Dad and I tried to garden. You could say we did garden, if you count planting, weeding, watering and picking off insects as gardening. Sadly, we produced very little by way of edible vegetables (squash bugs decimated everything from tomatoes to zucchini). The only thing we successfully grew was the one thing we couldn't eat: long-handle dipper gourds.
Painting a gourd is simple, but I'll share a few tips to get you started:
1. Drill first
Pre-drill a hole near the top. Otherwise, you will have to drill after you've finished painting, which could affect your design.
2. Prime
Prime your gourds with white spray paint before applying color. I made the mistake of painting them a "base" color (for example, the largest gourd was entirely painted light blue), which made applying top colors more difficult. I eventually had to apply white paint underneath the red stripes to make the red pop.
3. Varnish
Your gourds could have a long and fruitful life depending on where you hang them (outdoors vs. indoors). If you choose the outdoor route, applying a clear coat varnish will help extend the life of your painted masterpieces.
I hung mine outside. In Florida. That means if the sun wasn't beating down on them, then rain was trying to wash them away. Which brings me to my last point…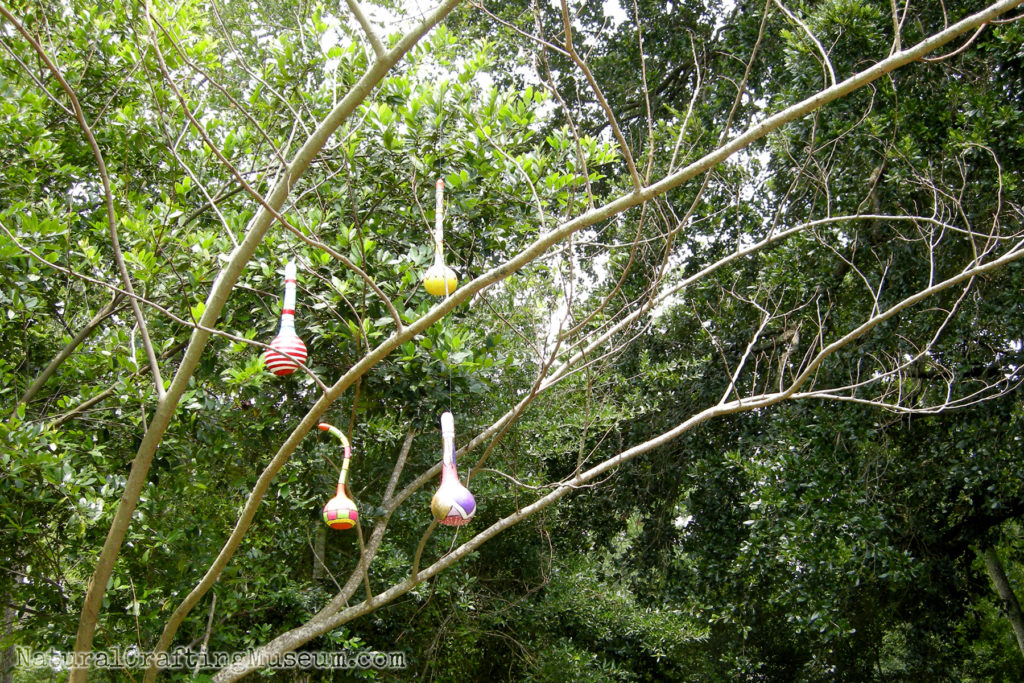 4. If you love someone your gourds, let them go
Life is fleeting. The gourds won't last forever.
This is especially true if you hang them outdoors. These made it about a year before succumbing to exposure. (After a particularly bad storm, one vanished… we never saw it again.) But that means you have a chance to grow more, paint more, and change up the look of your garden space every year!
And remember, if the gourds are large enough, make birdhouses out of them. While ours were too small for that purpose, I've seen gourds that are perfect for our bird friends.
Happy painting!